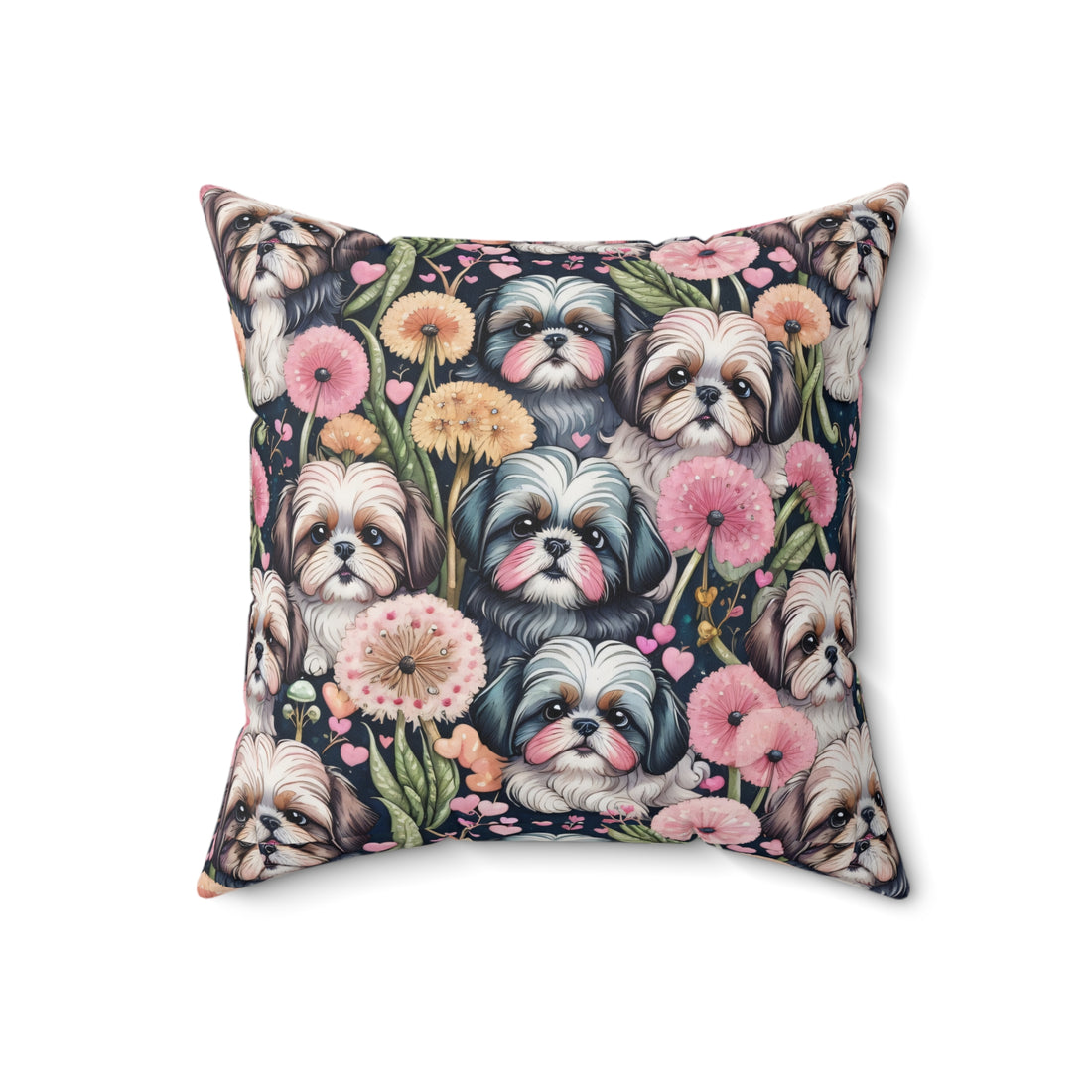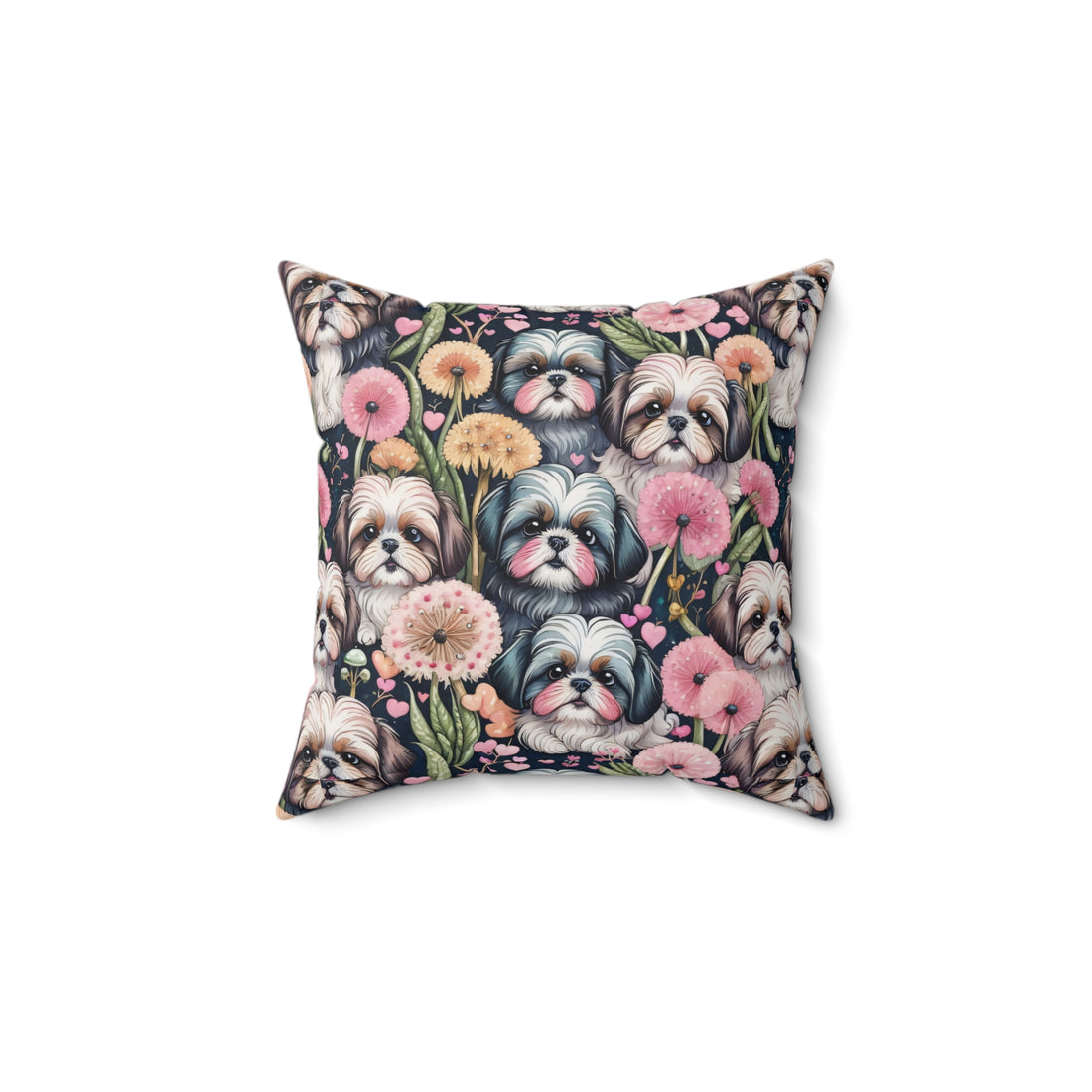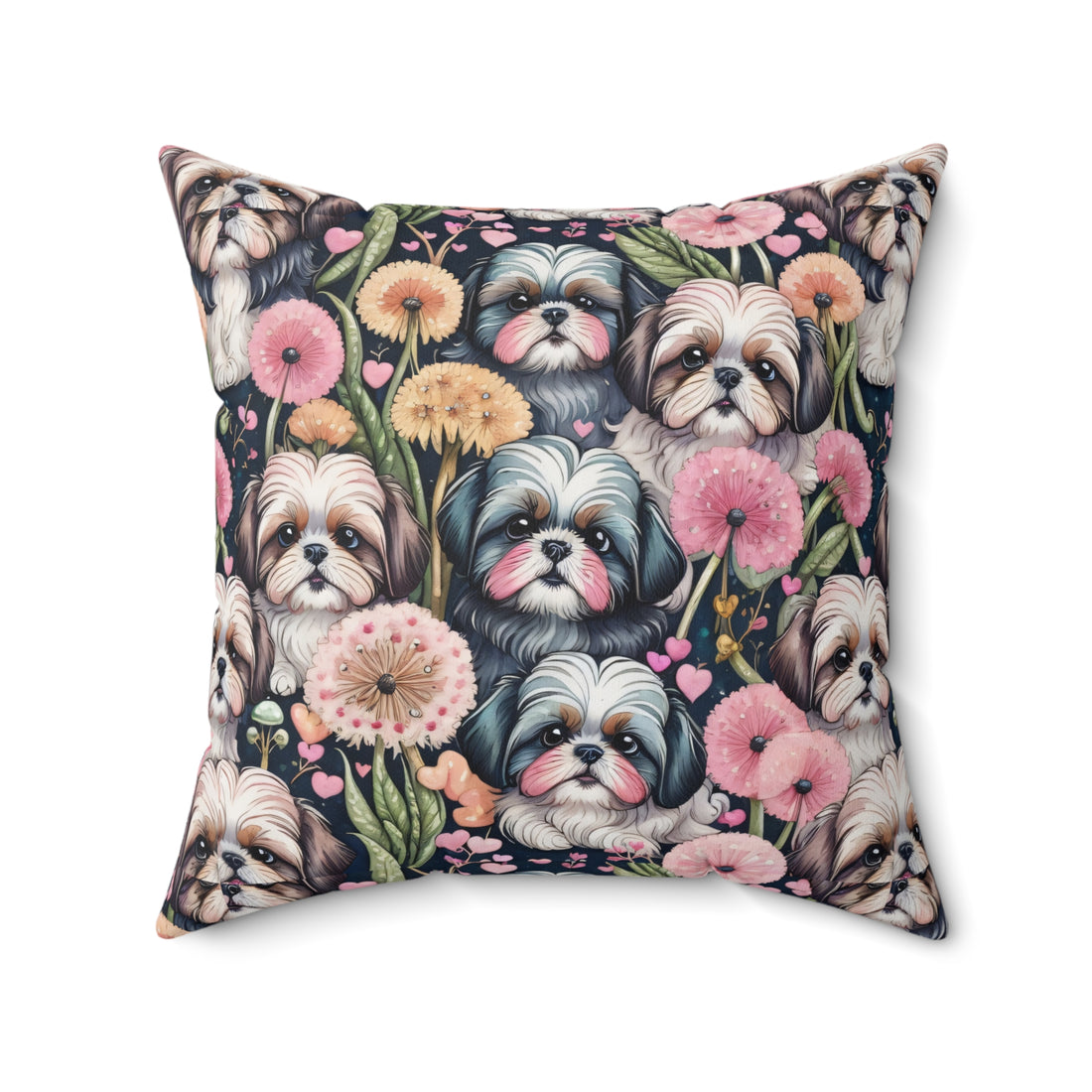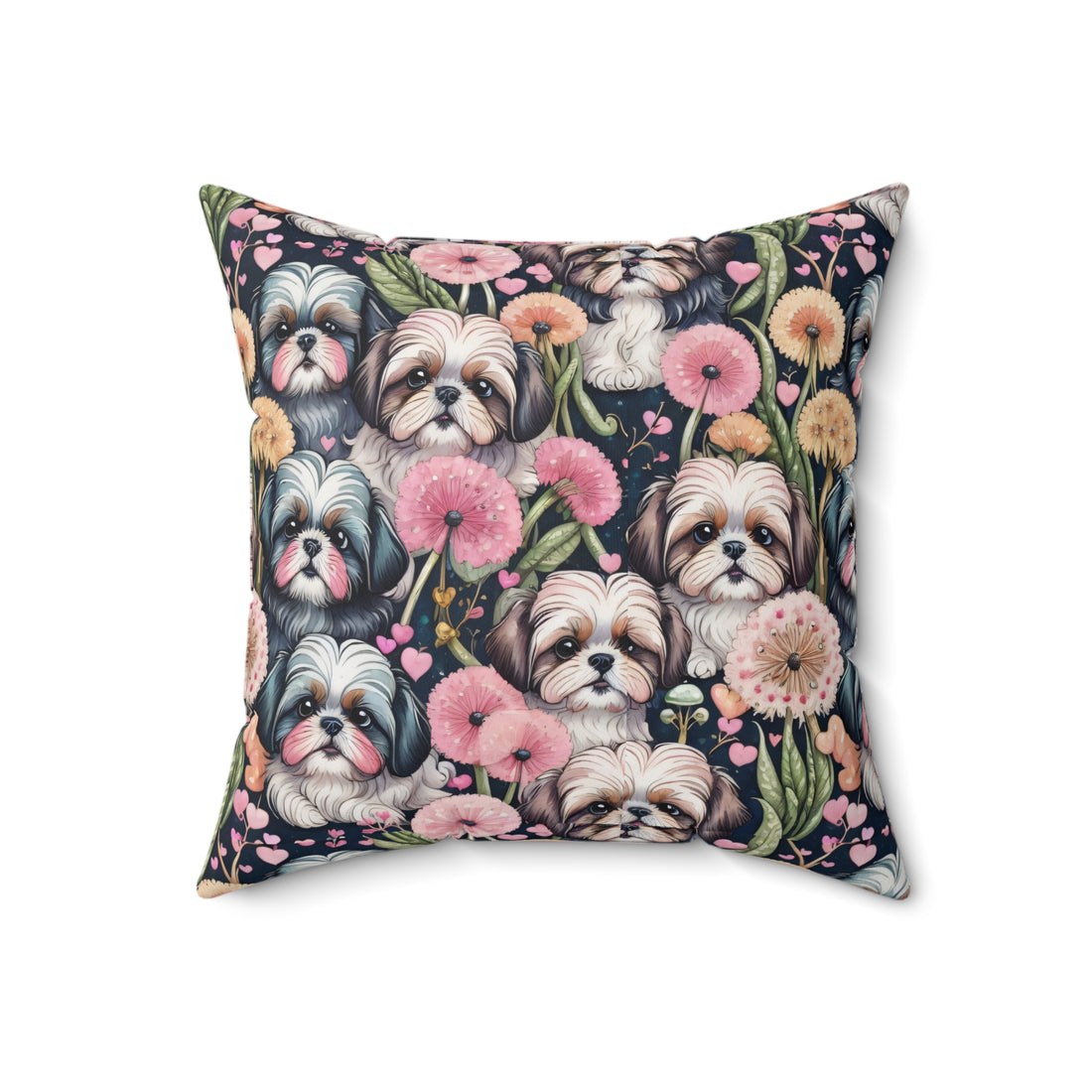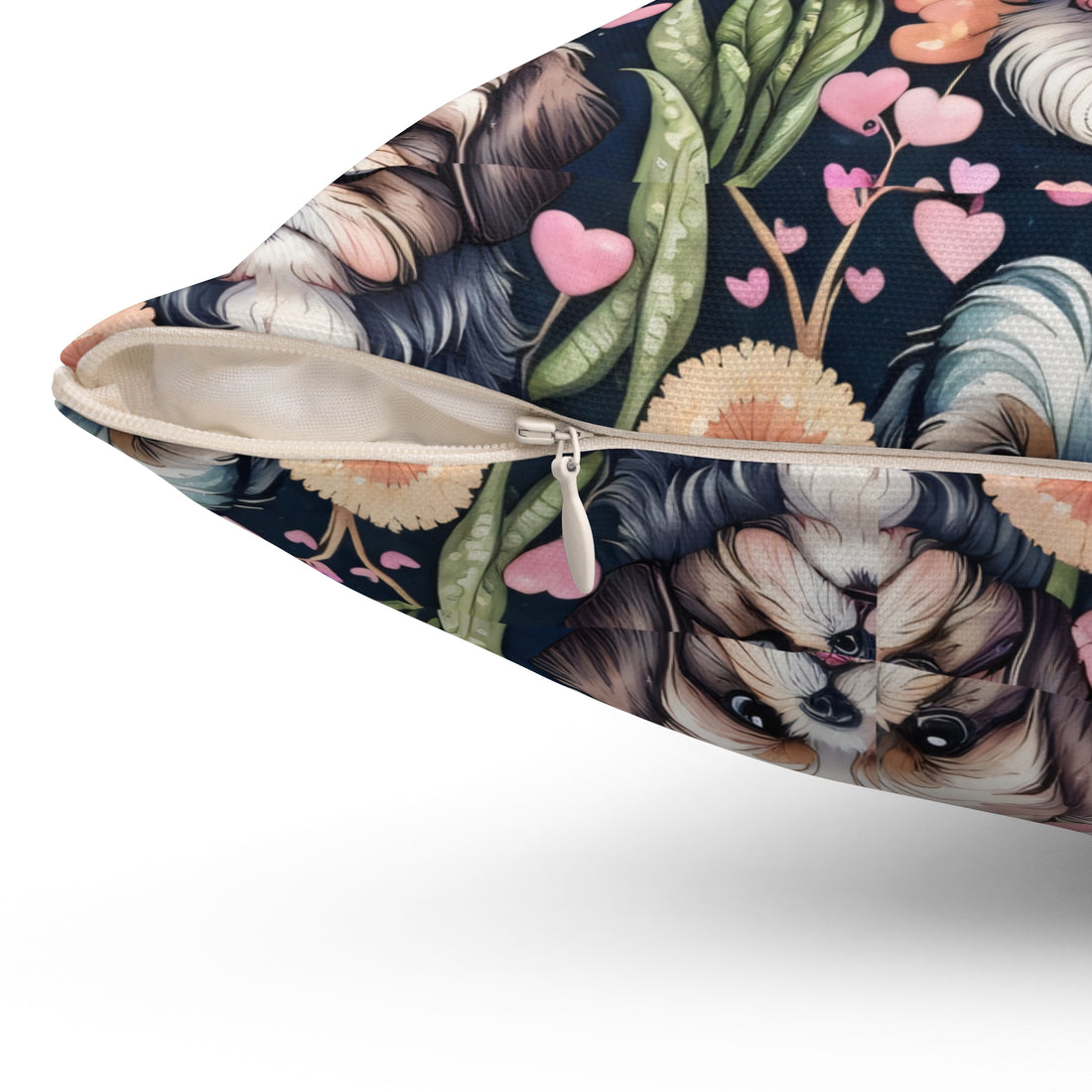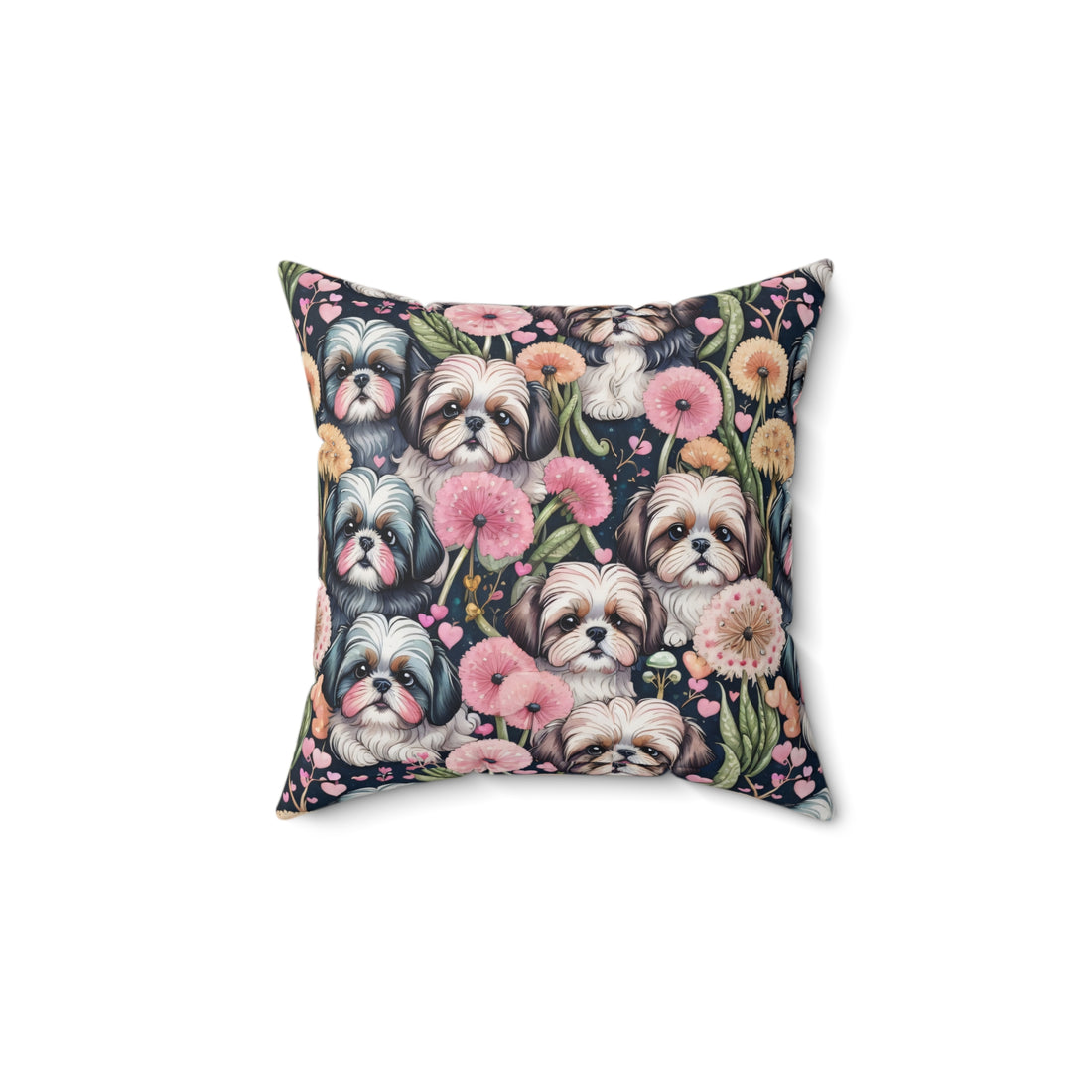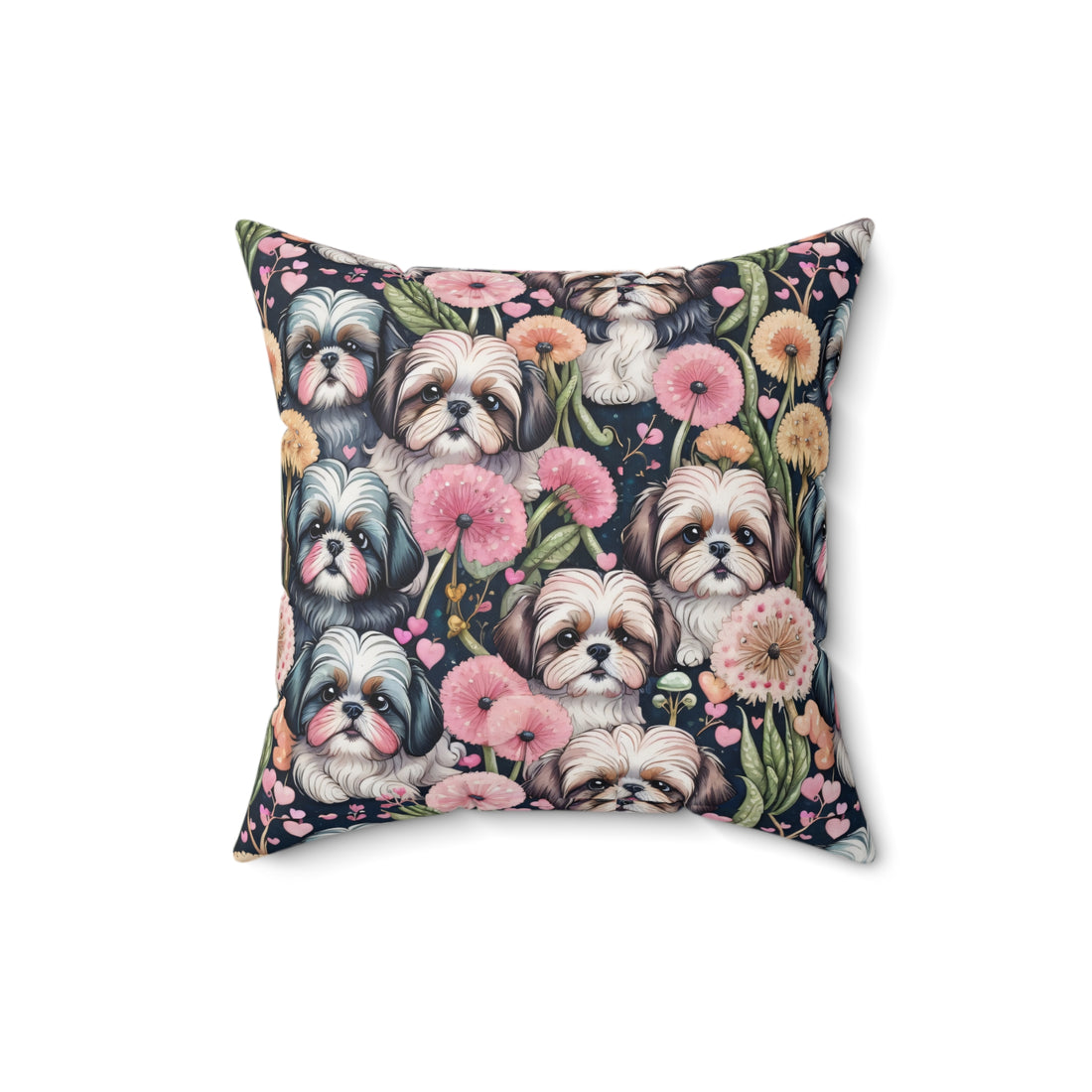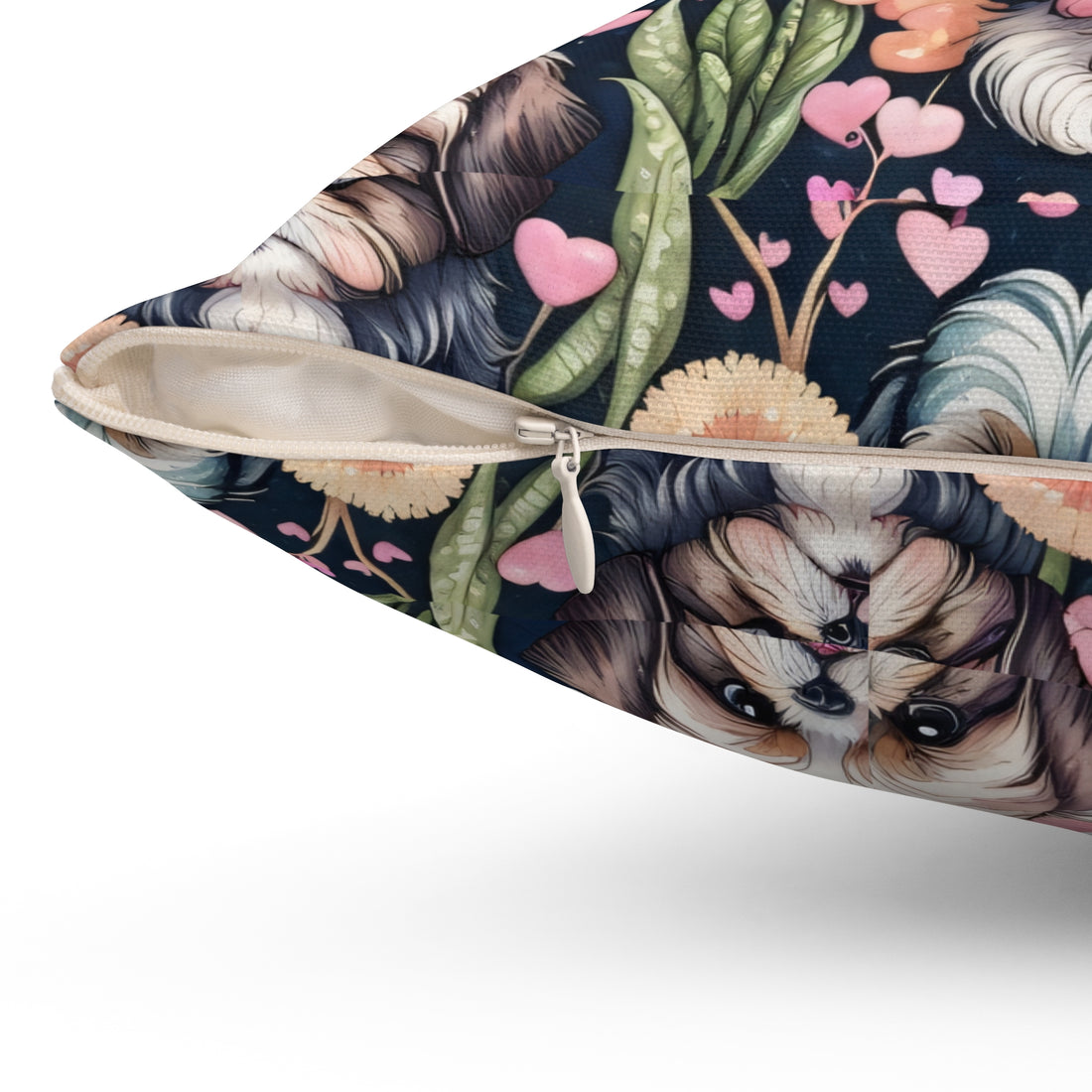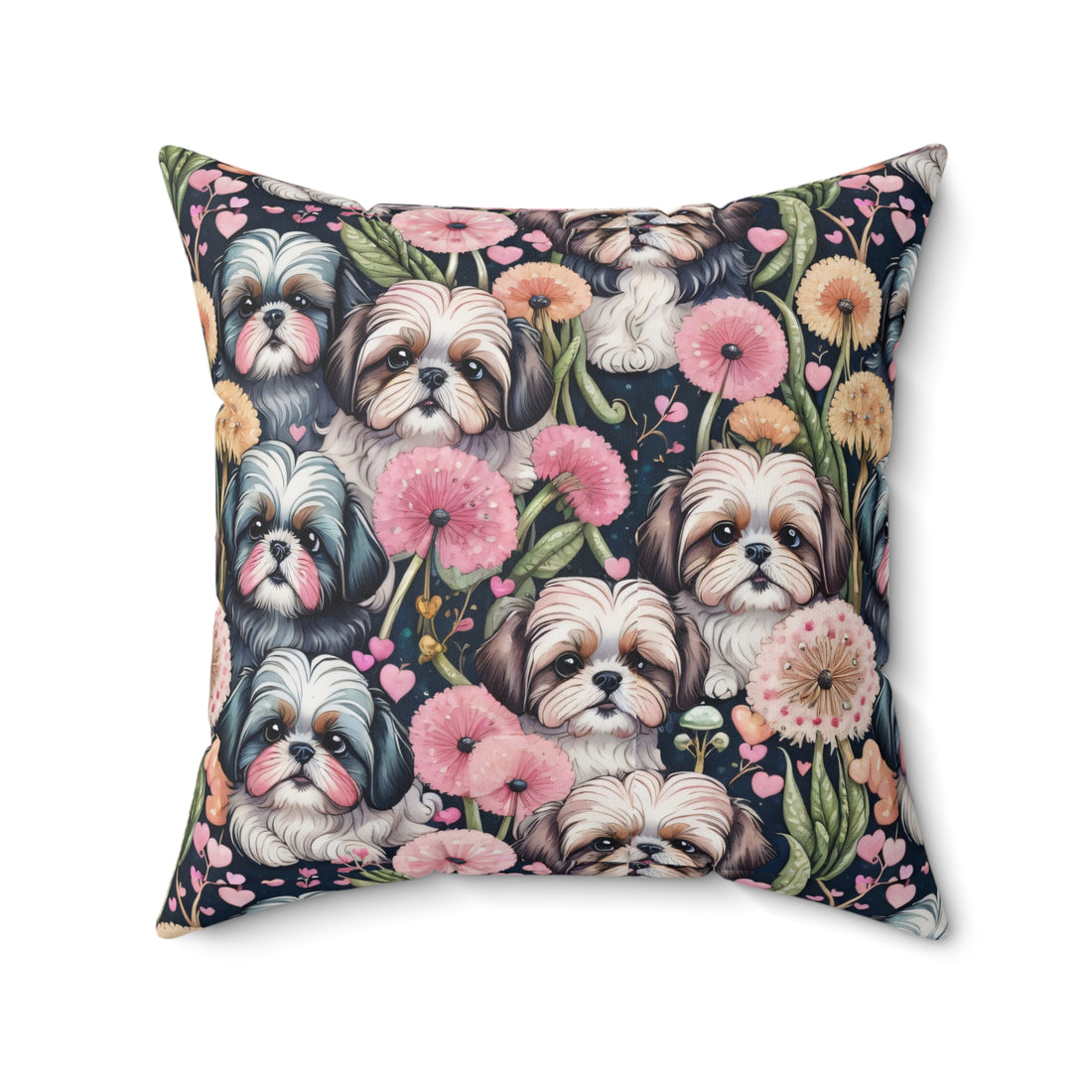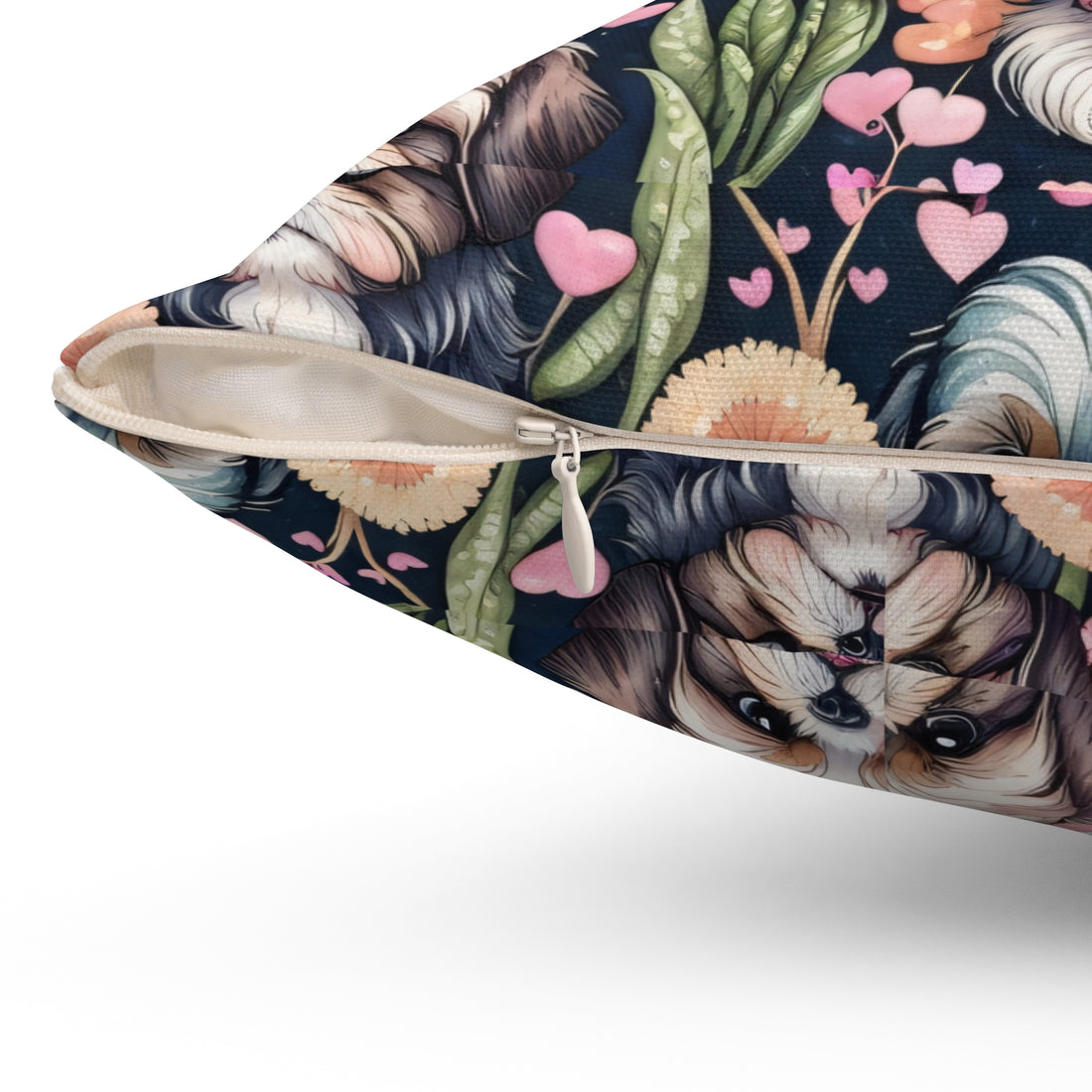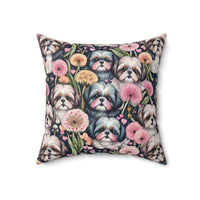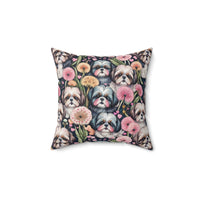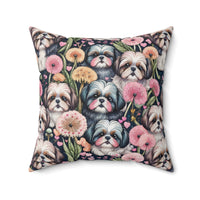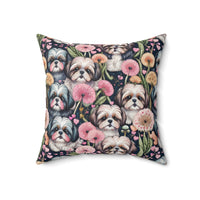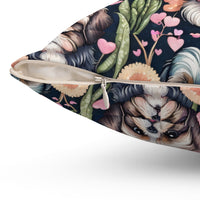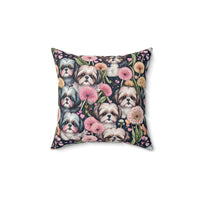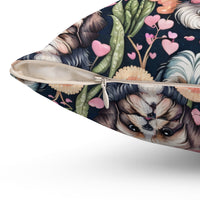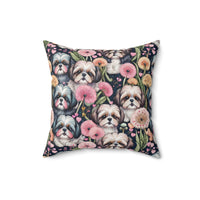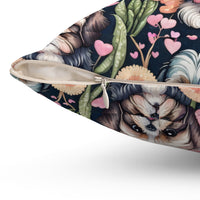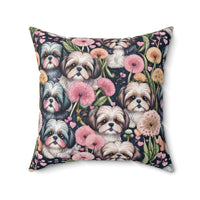 Shih Tzus and Dandelions Spun Polyester Square Throw Pillow
Shih Tzus are an ancient breed with roots in Tibet, where they were bred as companion dogs for royalty and monks. They were highly favored by Chinese emperors during the Ming and Qing dynasties and were even called "Lion Dogs" because of their resemblance to Chinese guardian lions. These charming little dogs have a rich history and continue to be cherished companions in many households today.
Indulge in the essence of serenity and the warmth of canine companionship with our exquisite Throw Pillow adorned with Shih Tzus and delicate dandelions. This decorative masterpiece isn't just a pillow; it's an invitation to embrace the beauty of nature and the affection of our beloved pets in the heart of your home.
Our design captures the gentle essence of Shih Tzus, known for their endearing personalities and sweet disposition. These adorable little dogs, with their expressive eyes and charming demeanor, take center stage on this pillow. Their presence evokes feelings of love, comfort, and loyalty, making it a perfect addition to your living room, bedroom, or any cozy nook where you seek relaxation and companionship.
Surrounding our adorable Shih Tzus are delicate dandelion blooms, a symbol of resilience and the fleeting beauty of life. The dandelions' soft, ethereal appearance against a backdrop of muted pastel colors creates a tranquil and dreamy atmosphere. It's as if you're lounging in a sun-dappled meadow, surrounded by nature's wonders and the company of these affectionate dogs.
Crafted with meticulous attention to detail, this throw pillow is more than just a piece of decor; it's a work of art. The high-quality fabric is luxuriously soft to the touch, inviting you to sink into its comfort. The fine printing captures every nuance of the Shih Tzus' expressions and the intricate details of the dandelions, ensuring that the beauty and charm of this pillow endure.
Whether you're a Shih Tzu enthusiast, a nature lover, or simply someone who appreciates the finer things in life, our Shih Tzu and Dandelion Throw Pillow is a statement piece that brings joy and relaxation to your space. It's a conversation starter, a source of comfort, and a reminder of the simple pleasures in life – the love of pets and the beauty of nature.
Elevate your home decor with this delightful throw pillow, and let the Shih Tzus and dandelions create a haven of tranquility and warmth in your living space. It's more than a pillow; it's a daily reminder of the love and beauty that surrounds us.
Room accents shouldn't be underrated. These beautiful indoor pillows in various sizes serve as statement pieces, creating a personalized environment.
.: 100% Polyester cover
.: 100% Polyester pillow included
.: Double sided print
.: Concealed zipper
.: Note: Pre-constructed item. Size variance +/- 0.5"
|   | 14" × 14" | 16" × 16" | 18" × 18" | 20" × 20" |
| --- | --- | --- | --- | --- |
| Width, in | 14.00 | 16.00 | 18.00 | 20.00 |
| Length, in | 14.00 | 16.00 | 18.00 | 20.00 |
Yumigara believes that empowerment begins with helping one another. For every Yumigara Private Label brand purchased, you are supporting small business owners from different parts of the world.
Our affiliate program enables Yumigara supporters to have passive income by recommending our product to friends and family.
Everyone's a winner in Yumigara.
We have a 14-day return for refund policy, which means you have 14 calendar days after receiving your item to request a return. To be eligible for a return, your item must be in the same condition that you received it, no signs of wear, with tags, and in its original packaging. You'll also need the receipt or proof of purchase. To start a return, you can contact us at hello@yumigara.com .